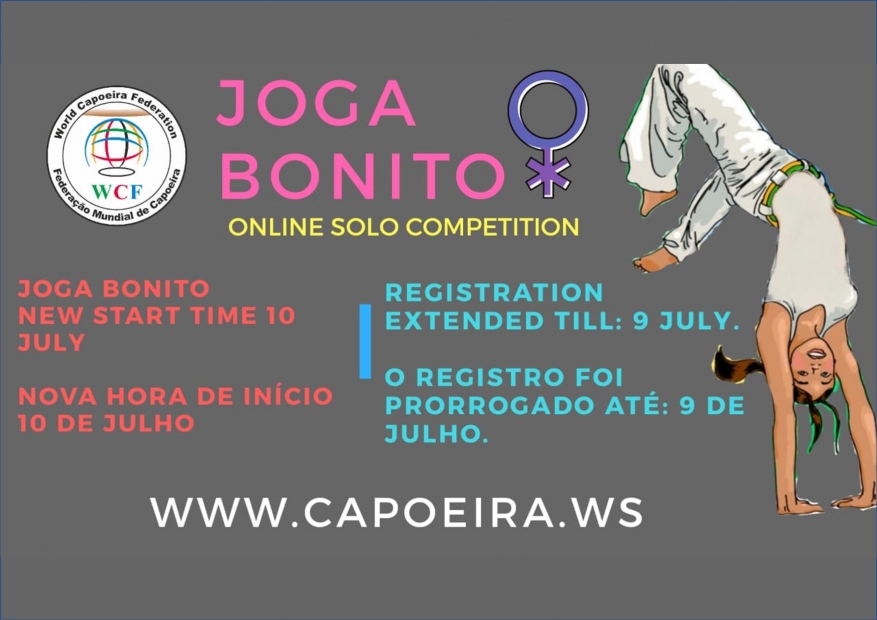 Due to overwhelming circumstances the "Joga Bonito - Women's Online Capoeira Solo Competition" registration deadline will be extended to July 10th.
A vast majority decision of the Management Board as well as the support from the Referee Panel the decision was passed and approved for the deadline to be extended.
A decision such as this is never easy for the Management Board to wager as there are numerous factors to weigh in to decide why it may be necessary and what the consequences might be. However, for this event overwhelming majority of Board Members agreed that extension is for the overall benefit of the event.
From the multitude of concerns causing this extension some of the main concerns were the minimum number of participants, numerous requests for late registration and late upload the videos to the web platform.
It's key to remember that many people around the world are only just becoming active again after months of inaction. To come from little or no training for a long period of time to full action is difficult and dangerous. Re-engaging your body, re-building your muscles and fitness within a short period of time will make athletes susceptible to injury and illness.
Therefore we would like to give the players more time to properly prepare themselves for competition.
What does this mean for those participants already submitted?
As per the rules of the competition (Rule 10. Rounds Important Notes About Rounds #4.) a participant may change and reload a new video unlimited times before the judging starts.
This is also a slight advantage to you as you now have 10 more days to really hone those movements and combinations.
With the delay of the voting schedule of the first round the following rounds must also be adjusted.
1st Round - 10th July - 17th July.
2nd Round - 20th July - 25th July.
3rd Round - 27th July - 1st August.
Please note: THERE WILL BE NO FURTHER DELAYS ACCEPTABLE IN THIS EVENT.
The WCF is all about engaging in high level competition but this is never without the highest regard for health and safety. We hope all the participants can understand the decisions of the WCF and continue to embrace the value of our mission.
30/06/2020