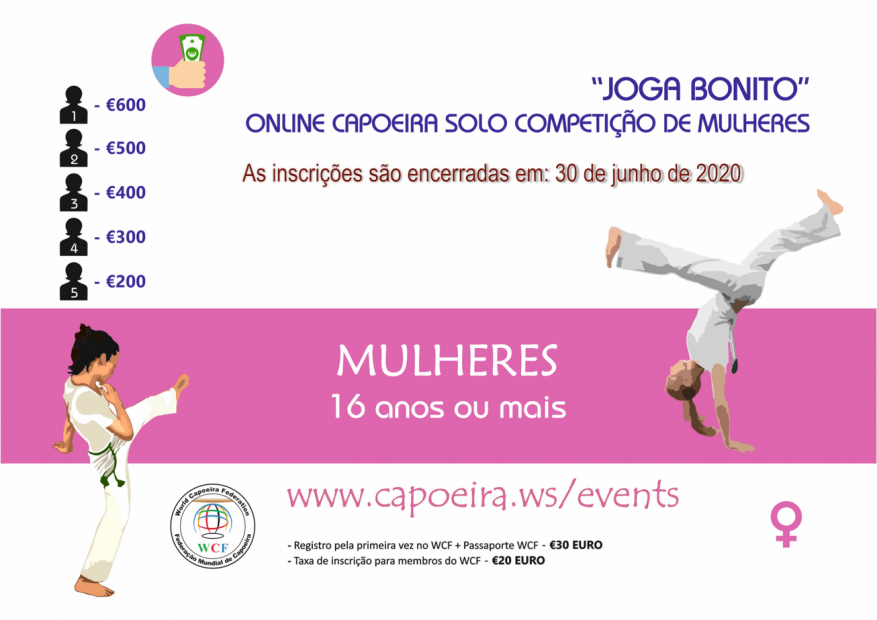 The second edition of the WCF online competitions is ready to get under-way.

Introducing the "Joga Bonito - Online Women's Capoeira Solo Competition".
This edition of the online competition is for females aged 16 and above with a total prize pool of €2000 up for grabs.
For this edition we have new Mestres and Mestras joining the WCF team to provide their expertise on evaluating the competitors performances. A total of 8 judges on the referee panel will provide fair and just evaluation of every video assuring that no judge will be able to score on bias a person from their own group.
Just as in the music competition there are two classes of point scoring, 75% of the score will be awarded by the referee panel and 25% will be in the way of "LIKES" from the public. So, make sure that from July 1st when voting opens that you share the link from the WCF website of your video on all of your social media to gain the likes and points from your friends and your friends friends and your friends friends friends.
Participants will have until June 30th to upload their videos to YouTube and submit the link to the competition page through their WCF member account.
It is extremely important to read the rules of the competition, everything you need to know from video length, evaluation criteria, uniform, prize funds, accompaniment and more is in the rules. You can get a copy of the rule book here on the WCF website in English and Portuguese.
https://www.capoeira.ws/events/joga-bonito/?step=regulations
Why this competition is only for the girls I hear you ask... Don't be alarmed, the male category for the online Capoeira Solo competition is coming soon. Prepare yourself.
We are looking forward to seeing some amazing Capoeira Solos, more importantly we are looking forward to seeing many people getting involved and having fun with their Capoeira solos.
Choreograph your best stuff. Get started today.
Valeu!
REGISTRATION:

WCF individual members:
- Log into your account.
- Go to the EVENTS section.
- Click on the poster of the relevant event.
- Select REQUEST PARTICIPATION.
After this process you will see the change of your status (colorized) that notifies you about the progress of your request. If your request is approved you will receive an email to pay the €20 Euro participation fee. You can also find the payment link in the PAYMENTS section within your account .
Non WCF members:
Capoeiristas who are not yet WCF individual members must first go to subscription area here: https://www.capoeira.ws/new-member/.
- Fill out the registration form, read the terms carefully and click REQUEST A MEMBERSHIP.
- Pay the €30 Euro (WCF 2 years membership fee and participation fee for the current event) with one link received to your email.
Get your WCF International Capoeira passport delivered to your home address within 30 days after the completion of the event.
GO TO THE COMPETITION PAGE:
https://www.capoeira.ws/events/joga-bonito/

05/06/2020