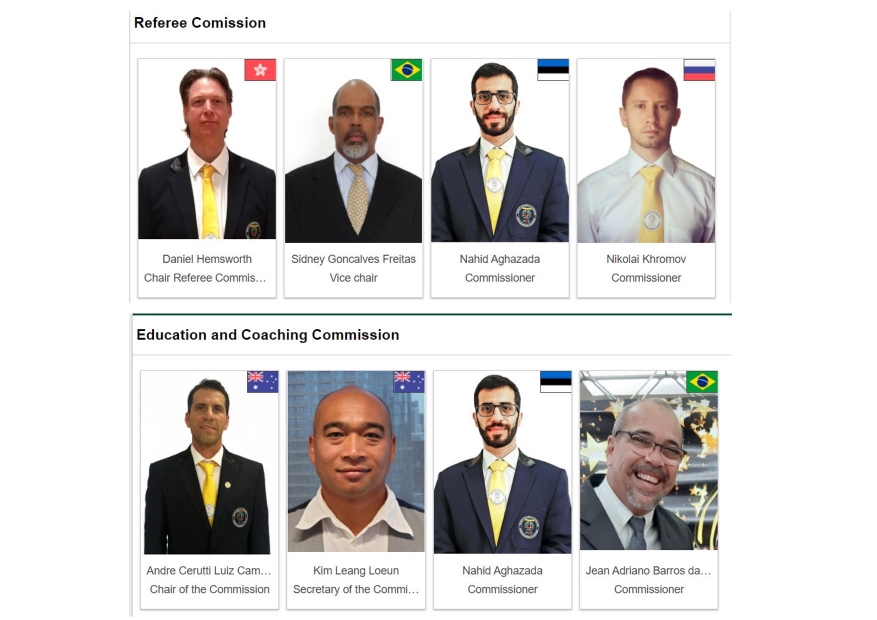 On Monday the 29th March 2021 the Management Board of the WCF held an monthly meeting and elect some of the members to new positions within the various commissions of the Federation.
The Commissions of main concern where the Referee Commission and the Education Commission.
Andre Cerutti (Mestre Peixe) had decided to step down from the position of Chairman of the Referee Commission after having filled that position for many years and is one of the key persons in creating the Refereeing regulations in WCF.
With the ongoing changes in lifestyle and work environment over the past year, Andre Cerutti decided to step down from the position in an effort to better utilise his time in with family, his work at the College of Sports and Fitness and his other appointments within the WCF.
Even though he stepped down from the Referee Commission doesn't mean he is out of the WCF, he indeed still occupies many other various positions within the Federation. He accepted a new post as chairman of the Education and Coaching Commission and is also an active member of the Management Board of the WCF.
To replace him in the position of chairman of the Referee Commission is Daniel Hemsworth (Chumbinho) who previously held the position of secretary of that Commission. Sidney Goncalves (Mestre Hulk), who remains as vice-chairman, and Management Board had discussed about the appointment and agreed that Daniel Hemsworth is the most appropriate person to fill the role given his thorough knowledge of the rules and regulations and dedication to helping the Commission operate efficiently.
Daniel Hemsworth, who is the president of the Hong Kong Capoeira Federation is also a member of the WCF Management Board.
The Education and Coaching Commission to which Andre Cerutti was elected chairman also confirmed the appointment of a new secretary, Kim Leang Loeun (Javali). Kim Leang Loeun (is the president of the Australian Sport Capoeira Federation and has qualifications in training and assessment from Melbourne Polytechnic University, a useful skill to help develop this arm of the WCF.
The last appointments of the meeting saw the initiation of the Organising Commission. This is the department that handles the details and procedures of organising world championships as well as assisting national federations in organising WCF sanctioned international open competitions.
The elected chairman is Jamil Huseyn, who is also Secretary-general of the WCF. Alongside him as secretary of the department is Elgiz Alizade of Azerbaijan who is also in charge of the WCF social media marketing management.
We are confident that these new appointments will only improve and the efficiency and professionalism of the World Capoeira Federation as we continue to pursue our goals of Sports Capoeira towards the Olympic Games.
29/03/2021