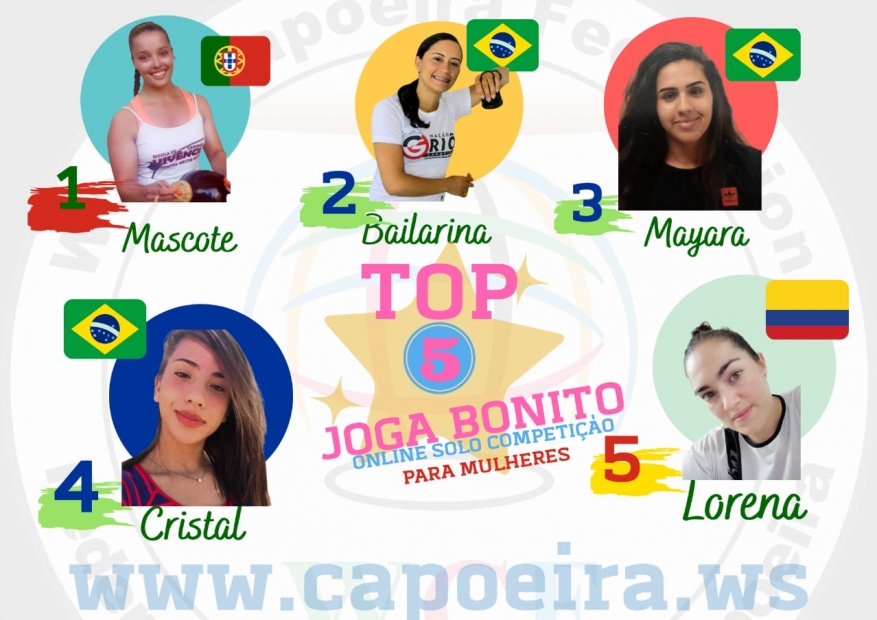 Joga Bonito - The Victorious
The world's first WCF online Capoeira solo competition came to an exciting conclusion this week, and what a fianle it was.
The original 37 entrants that participated were scattered from every continent in the world with the exception of Antartica.
Over 3 rounds the girls battled down until the final victorious five, the top 5 female Capoeira soloists in the world.
The top five point scorers of round 3 and winners of the competition are;
1st place, from Portugal with 7816 points, Sonia Rafaela Alves De Oliveira (Mascote).
2nd place, from Brazil with 7775 points, Michelle Cristina Ferreira Palhano (Bailarina).
3rd place, from Brazil with 7216 points, Mayara Oliveira.
4th place, from Brazil with 7000 points, Karine Cardoso dos Anjos (Cristal).
5th place, from Columbia with 6768 points, Lorena Lopez Castrillon.
Congratulations to these five amazing capoeiristas. Your names have gone down in history and you deserve the glory for all your hard work and dedication.
This is not to say that only these five had done amazing work and achieved great reults, many of the entrants achieved highlights of their own throughout the competition.
Let's make some special mentions to these promising players.
Our first place winner, Sonia Rafaela Alves De Oliveira (Mascote), came in first place in all 3 rounds and was the overall highest points winner with a grand total of 22042 points.
The player with the most public Likes was Lorena Lopez Castrillon with 1218 Likes in round 3, just a little shy of achieving half of the permitted public vote count, and 1637 Likes overall.
Scores from the judges showed Sonia Rafaela Alves De Oliveira (Mascote) with the highest score in each round with 7200 out of a possible 7500 in both rounds 2 & 3 and with a total judges score of 21000.
While solely based on the judges score the top 3 places remain the same, 4th highest scores from the judges went to Maria Elane Paulino do Nascimento (Folha) with 18600, followed by Janaína De Souza (Jana) with 18450, and 4th place winner Karine Cardoso dos Anjos (Cristal) after that with 18000 points. This goes to show just how much the public vote can sway the results and help your friends win the competition.
We of course give great thanks to the judges of this competition. Chief Referee Paulo Sales Neto (Mestre Paulao) and the judging panel of Carolina Magalhães (Mestra Brisa), Jamil Raimundo (Mestre Museu), Andre Cerutti Luiz Campos (Mestre Peixe), Jean Adriano Barros da Silva (Mestre Jean Pangolin), Elto Pereira De Brito (Mestre Suino), Sidney Goncalves Freitas (Mestre Hulk) and Yoji Senna (Mestre Senna da Bahia). Your input and evaluations of the players is of great importance to creating better competitions and better players as we continue ito the future of online competitions.
We hope the all players around the world continue to stay safe. While the pandemic continues into second and third waves in some places we at the WCF are dedicated to helping keep you all motivated in Capoeira while staying healthy to play another day. Keep your eyes open for the next chapter of the online competition series soon.
02/08/2020