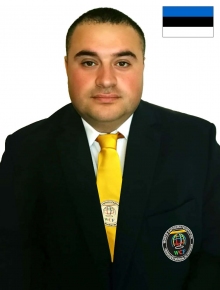 Ramid Niftalijev was the first who has founded Capoeira school in Estonia.
From the earliest years Ramid was involved in sports.

On the question how he came to capoeira he replies:"I was 15 years old when I saw "Only the strong" with Mark Dakaskos. I was so impressed by this unknown for this time martial art that I decided to make it by myself. Unfortunatelly for that moment nobody was teaching capoeira in Estonia and I had to start everything from scratch: get the materials, go to seminars to Finland and invite masters. There was a lot of people interested in capoeira who supported me."

It was time when first schools were opened in Estonia and finally in 2000 was founded Estonian Capoeira federation.

Later there were founded other schools by masters from other countries.

Ramid Niftalijev was one of the main ideologist of WCF foundation on the 3rd World Capoeira Forum in 2011.

By careful selection of WCF General Assembly was decided to appoint Ramid Niftalijev on the WCF president post.

Title:  Mr.
Name: Ramid Niftalijev       
Date of birth: 28.10.1981
Place of birth: Tallinn, Republic of Estonia
Marital status: Married
Languages: Estonian, English, Russian, Azerbaijani, Finnish.
Education: 2011 – 2012 Tartu University of Healthcare, Intensive care nursing
2007 – 2009  Tallinn University of Technology, Institute of International Relations and European Studies

Email: niftalijev@capoeira.ws