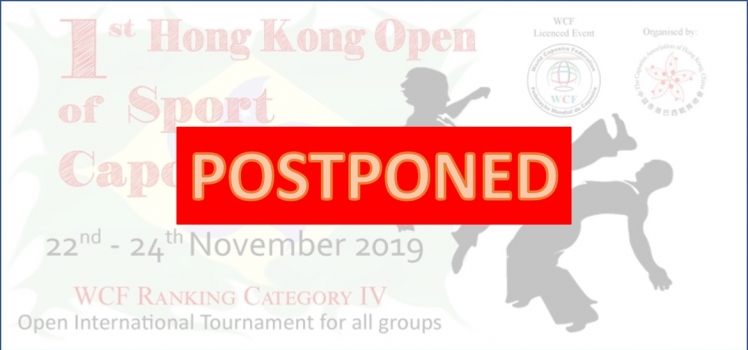 Dear registrants of the Hong Kong 2019 international tournament.
I am writing to you today in regards to the Hong Kong Open Competition 2019 scheduled for November 22nd - 24th 2019. As you may be aware Hong Kong is currently going through a period of severe civil disorder.
The Capoeira Federation of Hong Kong, China had made alternate and unconventional plans as to location and programming of the event to try to keep competitors and athletes as far away as possible from any potential clashes and out of harms way.
On this past Friday the 4th of October the Hong Kong government introduced new Emergency Laws prohibiting a number of certain freedoms which was responded to by the local Hong Kong population with mass rioting, destruction of property, and personal attacks on police and tourists. Within just a few hours of the announcement the entire public transportation system was crippled and all shops and shopping centres were closed down. This suspension of public transport and shops continued into the whole next day and is predicted to continue with no sign of alleviation.
Therefore it is with regret that the 2019 Hong Kong Open Competition is to be postponed indefinitely or cancelled. This decision has been made by The Capoeira Federation of Hong Kong, China. It has been decided with the highest regards to the safety and wellbeing of participating athletes, judges, referees and delegations traveling to Hong Kong or currently based in Hong Kong.
Over the past few months many international events have been cancelled in Hong Kong from major sporting events to concerts and theatrical performances. The cancellation of events runs as far as into March 2020 demonstrating that many sports and cultural bodies in Hong Kong do not predict this civil disorder to cease at any
time soon.
As a result of the cancellation, I would like to offer any assistance in amending issues with cancelling or refunding of flight tickets already booked before the date of this notice. Please contact me directly by email ([email protected]) with any concerns.
The Capoeira Federation of Hong Kong, China is however focused on continuing to prepare for the 2020 Hong Kong International Open scheduled to take place on November 20th - 22nd 2020.
Yours sincerely
Daniel Hemsworth
President of the Capoeira Federation of Hong Kong, China.

BBC News
https://www.youtube.com/watch?v=KNfJlQbxPOA
RIT Notícias
https://www.youtube.com/watch?v=cc08udVC9ew&feature=youtu.be&fbclid=IwAR0D5-MSIiSkvYS8TomYnpaz1BiqumK3X5DAzojGGXzf8cQChJR-VEPnrnU
Other Videos
https://www.youtube.com/watch?v=GvWnEU_PW6M&feature=youtu.be&fbclid=IwAR26tB_1H7z26-8luks-Ky3--euwuKYQ4MbP-0fYA4sBfhaUBbUpHhFntw8
https://www.youtube.com/watch?v=fvT8Bd1WPFQ&feature=youtu.be&fbclid=IwAR0NXm2fyI6ZGmIaqsAvkgg_c0vIzhmtHuZX3tv1Er2Kri0RT82DukfpkWs
https://www.youtube.com/watch?v=zzI2bfcsRDQ&feature=youtu.be&fbclid=IwAR0dagcsGYX115IW2vb7XvwnOE6F8rVjg7A9BMxjI6ER5tJb-8KC25KnJJo
22/11/2019